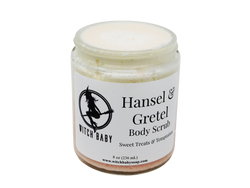 Witch Baby Soap
Hansel & Gretel Ultra Rich Scrub
Hansel & Gretel is a scrub so sweet you might risk getting eaten by a witch for. It's an irresistible combination of both of this season's most mouth watering scents - Merry Meet and Cakes & Ale. Cakes & Ale starts off this deeply moisturizing winter scrub with sweet buttery notes of marshmallow, powdered sugar, and graham cracker crumbles. It gently fades into the sweet berry jam and homemade cookie notes of Merry Meet that make up the bottom half of this skin treat.  
Packaged in a 8 oz (Full Size) or 4 oz (Half Size) reusable glass jar. 
Melt Warning - This product melts in hot environments. If your product melts in transit we are not responsible and will not issue a refund or store credit. Immediately put jar in refrigerator to solidify, texture may change slightly.
Ingredients: Sea Salt, Sodium Chloride, Vitellaria Paradoxa (Shea) Butter, Organic Cocos Nucifera (Coconut) Oil, Vitis Vinifera (Grape) Seed Oil, Kaolin Clay, Zea Mays (Corn) Starch, Fragrance (Phthalate Free), Phenoxyethanol (and) Caprylyl Glycol (and) Sorbic Acid