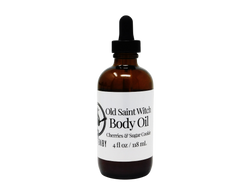 Witch Baby Soap
Old Saint Witch Body Oil
Old Saint Witch is inspired by La Befana the Italian Christmas Witch. This classic cherry sugar cookie scent evokes the magic and the excitement of Christmas Eve. Sweet notes of maraschino cherry mingle with fresh baked sugar cookies.
Packaged in a 2 oz glass dropper bottle with an attached dropper.
This product does not contain preservatives. Store in a cool dry place and keep away from water. Always use with clean dry hands.
Ingredients: Helianthus Annuus (Sunflower) Seed Oil, Salvia Hispanica (Chia) Seed Oil, Oenothera Biennis (Evening Primrose) Oil, Fragrance (Phthalate Free), Mica, Titianium Dioxide, Iron Oxide