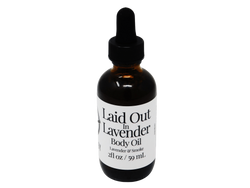 Witch Baby Soap
Laid Out in Lavender Body Oil
Laid out in Lavender is an olde world funerary blend of lavender smoke, the cool whispering breeze, and creaky floor boards. This haunting body oil is made with dried lavender buds to help you rest in peace.
Packaged in a 2oz glass dropper bottle with attached dropper.
This product contains essential oil. Please consult a physician before use if you are pregnant, breastfeeding, or have a medical condition.
Ingredients: Salvia Hispanica (Chia) Seed Oil, Helianthus Annuus (Sunflower) Oil, Oenothera Biennis (Evening Primrose) Oil, Fragrance (Phthalate Free), Lavandula angustifolia (Lavender) Essential Oil, Lavandula angustifolia (Lavender) Buds