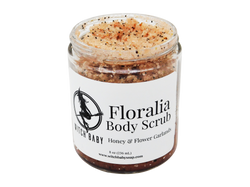 Witch Baby Soap
Floralia Body Scrub
Celebrate the coming of Spring with this romantic blend of flower garlands, lacey garden debauchery, and sweet sticky honey. This hedonist sugar scrub is packed with beauty enhancing heather flowers, loving elder flowers, enchanting poppy seeds, and joyous sunflower oil for a full body exfoliation that casts an alluring glamour.
Packaged in 8 oz (Full Size) or 4 oz (Half Size) glass reusable jar.
This product contains herbs. Please consult a physician before use if you are pregnant, breastfeeding, or have a medical condition.
Ingredients: Organic Sucrose (Sugar), Helianthus Annuus (Sunflower) Seed Oil, Fragrance (Phthalate Free),  Phenoxyethanol (and) Caprylyl Glycol (and) Sorbic Acid, Mica, Titanium Dioxide, Iron Oxide, Calluna vulgaris (Heather Flowers), Papaver somniferum (Poppy Seeds), Sambucus nigra (Elder Flowers)