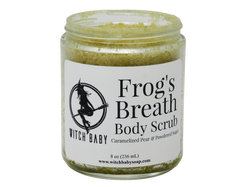 Witch Baby Soap
Frog's Breath Body Scrub
Frogs have been long aligned with the divine feminine, the moon, mothers, and witches. This tribute to the magical women that came before us has a comforting sweet blend of caramelized pear, puff pastry, and powdered sugar. Feminine rice oil and lunar oats aid us in honoring the goddess within.
Packaged in an 8 oz (Full Size) or 4 oz (Half Size) reusable glass jar.  
This product contains herbs.  Please consult a physician before use if pregnant breastfeeding or have a medical condition.
Ingredients: Organic Sucrose (Sugar), Oryza Sativa (Rice) Bran Oil, Camellia Sinensis (Matcha) Leaf Powder, Avena Sativa (Oat) Kernel Flour, Fragrance (Phthalate Free), Phenoxyethanol (and) Caprylyl Glycol (and) Sorbic Acid