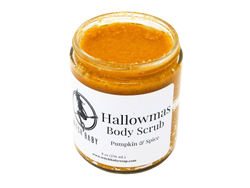 Witch Baby Soap
Hallowmas Body Scrub
Hallowmas is a Halloween cult classic. This autumnal body scrub is the embodiment of October. It has the intoxicating aroma of crushed caramelized jack-o-lantern guts drenched in bourbon vanilla with a dash of warm pumpkin spice. This yummy pumpkin scrub is made with real pumpkin puree, sunflower oil, sea salt, cinnamon, nutmeg, cloves, and ginger. It's deeply exfoliating and doesn't leave you feeling greasy. Jack-o-lantern guts are rich in antioxidants and minerals that leave your ghoulish skin feeling revitalized and nourished after a long night of raising the dead. 

Packaged in an 8 oz (Full Size) or 4 oz (Half Size) reusable glass jar.

This product contains herbs. Consult a physician before use if you are pregnant, breastfeeding, or suffering from a health condition.
Due to the inclusion of spices in this blend it is not intended for sensitive skin. 
Ingredients: Sea Salt, Sodium Chloride, Pumpkin Puree (Water, Cucurbita Pepo [Pumpkin] Fruit, Citric Acid, Chlorphenesin [and] Benzoic Acid [and] Sorbic Acid [and] Phenoxyethanol [and] Caprylyl Glycol), Cucurbita Pepo (Pumpkin) Seed Oil, Fragrance (Phthalate Free), Pumpkin Spice (Cinnamomum Cassia [Cinnamon] Powder, Zingiber Officinale [Ginger] Powder, Syzygium Aromaticum [Clove] Powder, Myristica Fragrans [Nutmeg] Powder), Cyamopsis Tetragonoloba (Guar) Gum