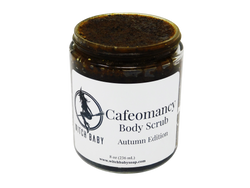 Witch Baby Soap
Autumn Edition Cafeomancy Scrub
The Autumn edition of Cafeomancy Scrub is completely addicting. It has a nutty coffee fragrance with hints of whipped cream, bourbon vanilla, pumpkin, and maple syrup. It's made with REAL pumpkin puree and pumpkin seed oil to keep your skin soft and supple when the air gets cold and crisp. Perfect for any pumpkin spice latte lover. Exfoliate in circular motions on wet skin and rinse.
Packaged in 8 oz (Full Size) or 4 oz (Half Size) reusable glass jar
Slippery When Wet
This product contains herbs. Consult a physician before use if you are pregnant, breastfeeding, or suffering from a health condition.
Due to the inclusion of spices in this blend it is not intended for sensitive skin.
Ingredients: Sucrose, Pumpkin Puree (Water, Cucurbita Pepo [Pumpkin] Fruit, Citric Acid, Chlorphenesin [and] Benzoic Acid [and] Sorbic Acid [and] Phenoxyethanol [and] Caprylyl Glycol), Coffea Arabica (Coffee), Cucurbita pepo (Pumpkin Seed) Oil, Fragrance (Phthalate Free), Pumpkin Spice (Cinnamomum Cassia [Cinnamon], Zingiber Officinale [Ginger], Syzygium Aromaticum [Cloves], Myristica Fragrans [Nutmeg]), Cyamopsis Tetragonoloba (Guar) Gum