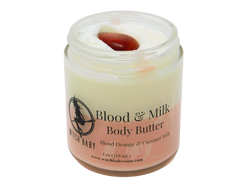 Witch Baby Soap
Blood and Milk Body Butter
Blood and Milk Body Butter is packed full of coconut-y and blood orange-y goodness! Coconut can be used for aura cleansing, purifying, and protection. Coconut is ruled by the moon and blood orange is ruled by the sun creating an ideal balance. Blood orange give a feeling of protection, vibrancy, and warmth. Red jasper topped Blood and Milk Body Butter is an energetic tune up for your aura. 
Packaged in a 2 oz travel size or 4 oz reusable glass jar.
This product contains essential oils. Consult a physician before use if you are pregnant, breastfeeding, or suffering from a health condition.
Melt Warning - This product melts in hot environments. If your product melts in transit we are not responsible and will not issue a refund or store credit. Immediately put jar in refrigerator to solidify, texture may change slightly.
Ingredients: Vitellaria Paradoxa (Shea) Butter, Organic Cocos Nucifera (Coconut) Oil,  Helianthus Annuus (Sunflower) Seed Oil, Zea Mays (Corn) Starch, Fragrance (Phthalate Free), Cetearyl Olivate (and) Sorbitan Olivate, Citrus Sinensis (Blood Orange) Essential Oil, Mica, Iron Oxide