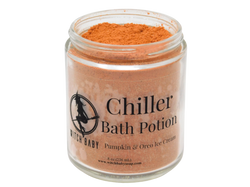 Witch Baby Soap
Chiller Potion
Chiller is a bone chilling ice cream blend with saccharine notes of pumpkin spice and oreo inspired by one of our favorite flavors from Vanilla Bean Creamery. This delectable bath potion is made with all of your favorite tricks and treats. Real pumpkin, cocoa, and marshmallow root make this coconut milk bubble bath dripping with Halloween decadence.
Packaged in 8 oz glass jar
This potion contains herbs. Please consult a physician before use if you are pregnant, breastfeeding, or suffering from a medical condition.
Ingredients: Ingredients: Magnesium Sulfate (Epsom Salt), Organic Cocos Nucifera (Coconut) Milk Powder (Organic Acacia Fiber, Organic Tapioca Maltodextrin ]Derived from Organic Yuca Root]), Sodium Lauryl Sulfoacetate, Moroccan Clay, Kaolin Clay, Sodium Chloride, Fragrance (Phthalate Free), Cucurbita Pepo (Pumpkin) Fruit Powder, Theobroma Cacao (Cocoa) Powder,  Althaea Officinalis (Marshmallow) Root Powder