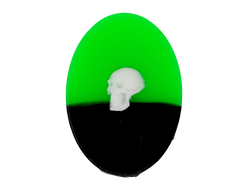 Witch Baby Soap
Dead Man's Party Soap
You're invited to a Dead Man's Party leave your body and soul at the door! Haunting smells of spiced ale, kettle corn, and Halloween candy mingle in this Samhain celebration of the macabre. 
Net Wt 5 oz
This product contains herbs. Consult a physician before use if you are pregnant, breastfeeding, or suffering from a health condition.
Due to the inclusion of spices in this blend it is not intended for sensitive skin.
Ingredients: Coconut Oil, Palm Oil (Sustainable), Safflower Oil, Glycerin (Kosher, of vegetable origin), Purified Water, Sodium Hydroxide (Saponifying Agent), Sorbitol (Moisturizer), Propylene Glycol, Sorbitan Oleate (Emulsifier), Oat Protein (Conditioner), Fragrance (Phthalate Free),  Pumpkin Spice (Cinnamomum Cassia [Cinnamon] Powder, Zingiber Officinale [Ginger] Powder, Syzygium Aromaticum [Clove] Powder, Myristica Fragrans [Nutmeg] Powder), Activated Charcoal, Polyester 3, Green Pigment 7