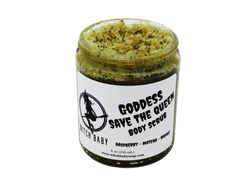 Witch Baby Soap
Goddess Save The Queen Scrub
Goddess Save the Queen is raw, elegant, and packs a punch. Clean up your act with this bright eccentric blend of green tea, raspberry, and spicy wasabi. This scrub is for those who do not need to be ruled over. It's packed full of antioxidant rich green tea, wasabi, and sugar. Be your own queen. 
Packaged in an 8 oz (Full Size) or 4 oz (Half Size) reusable glass jar.
This product contains herbs. Please consult a physician before use if you are pregnant, breastfeeding, or have a medical condition.
Ingredients: Organic Sucrose (Sugar), Helianthus Annuus (Sunflower) Seed Oil, Papaver Somniferum (Poppy) Seeds, Camellia Sinensis (Matcha) Powder, Fragrance, Phenoxyethanol (and) Caprylyl Glycol (and) Sorbic Acid, Wasabia Japonica (Wasabi) Powder