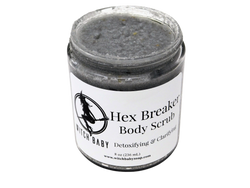 Witch Baby Soap
Hex Breaker Scrub
Hex Breaker can banish even the darkest of days with exfoliating sea salt, detoxifying charcoal, and deeply moisturizing shea butter and avocado oil. Lemon is the star of this clarifying blend. It's exfoliating, clarifying, and great for scrubbing away negative energy. Hex Breaker is great for all skin types! This blend with non comedogenic oils and fresh lemon puree. Calming lavender, soothing clary sage, and hex breaking angelica oils round out this blend with extra curse breaking and protective properties. Apply to skin in circular motions and then rinse away all of the negativity. 
Packaged in 8 oz (Full Size), 4 oz (Half Size) 
*Slippery When Wet*
This product contains herbs and essential oils. Consult a physician before use if you are pregnant, breastfeeding, or suffering from a health condition.
Ingredients: Sea Salt (Sodium Chloride), Lemon Puree (Water, Citrus Limon (Lemon) Fruit Extract, Citric Acid, Phenoxyethanol, Chlorphenesin, Benzoic Acid, Sorbic Acid), Vitellaria Paradoxa (Shea Butter), Persea Gratissima (Avocado) Oil, Carbon (Activated Charcoal) Powder , Cyamopsis Tetragonoloba (Guar) Gum, Phenoxyethanol and Caprylyl Glycol and Sorbic Acid (Paraben Free Preservative), Citrus Limon (Lemon) Oil, Lavandula Angustifolia (Lavender) Oil, Salvia Sclarea (Clary Sage) Oil, Angelica Archangelica (Angelica) Oil