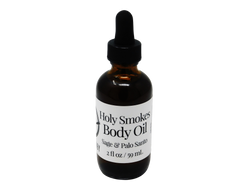 Witch Baby Soap
Holy Smokes Body Oil
Your body is a church. Breathe in the enlightening aroma of palo santo, sage, frankincense, and myrrh and let your mind drift away like ripples of sacred smoke. Holy Smokes provides a cleansing experience for not only the body, but the mind and soul as well. This non-greasy oil blend is infused with sage and palo santo. High vibe frankincense is added to each bottle. 
Packaged in a 2 oz glass dropper bottle with an attached dropper. 
This product contains herbs and essential oils. Consult a physician before use if you are pregnant, breastfeeding, or suffering from a health condition.
Ingredients: Infused Salvia Officinalis (Sage) (and) Bursera Graveolens (Palo Santo) Helianthus Annuus (Sunflower) Seed Oil, Salvia Hispanica (Chia) Seed Oil, Oenothera Biennis (Evening Primrose) Oil, Fragrance (Phthalate Free) , Boswellia Papyrifera (Frankincense) Tears