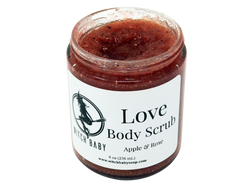 Witch Baby Soap
Love Body Scrub
Love Body Butter is self love in a jar. It's a Venusian blend of freshly bloomed roses and sweet juicy pink lady apples that invites you to love yourself. A base of apple purée makes this the perfect scrub for someone who doesn't like oil based scrubs. The combination of mineral rich beet root, antioxidant rich roses and apples, moisturizing sunflower oil, and exfoliating poppy seeds makes this superfood for your skin.
Packaged in 8 oz (Full Size) or 4 oz (Half Size) reusable glass jar
*Slippery When Wet* 
This product contains herbs and essential oils. Consult a physician before use if you are pregnant, breastfeeding, or suffering from a health condition.
Ingredients: Organic Sugar (Sucrose), Pyrus Malus (Apple Puree) Fruit, Chlorphenesin (and) Benzoic Acid (and) Sorbic Acid) Organic Sunflower Oil (Helianthus Annuus Seed Oil), Poppy Seeds (Papaver Somniferum Seed), Beet Root Powder (Beta Vulgaris Root Powder), Fragrance (Phthalate Free), Phenoxyethanol (and) Caprylyl Glycol (and) Sorbic Acid, Rose Absolute (Rosa Centifolia Flower Extract)