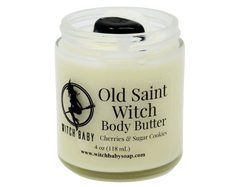 Witch Baby Soap
Old Saint Witch Body Butter
Old Saint Witch is inspired by La Befana the Italian Christmas Witch. This classic cherry sugar cookie scent evokes the magic and the excitement of Christmas Eve. Sweet notes of maraschino cherry mingle with fresh baked sugar cookies. Topped with snowflake obsidian.
Packaged in 4 oz reusable glass jar.
Melt Warning - This product melts in hot environments. If your product melts in transit we are not responsible and will not issue a refund or store credit. Immediately put jar in refrigerator to solidify, texture may change slightly.
Ingredients: Vitellaria Paradoxa (Shea) Butter, Helianthus Annuus (Sunflower) Seed Oil, Organic Cocos Nucifera (Coconut) Oil, Fragrance (Phthalate Free), Zea Mays (Corn) Starch, Cetearyl Olivate (and) Sorbitan Olivate.