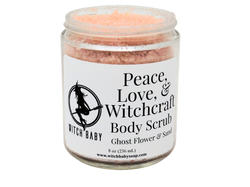 Witch Baby Soap
Peace, Love, and Witchcraft Scrub
Peace, Love, and Witchcraft smells of long summer days ending under hot pink sunsets. It has a complex aroma of ghost flower, warm summer sand, cactus fruit, pink amber, and crushed dark berries. This aroma comes to life on warm glowing summer skin. Peace, Love, and Witchcraft is made with sweet exfoliating organic sugar and antioxidant rich belle of the night - dragon fruit powder making this scrub food for your skin.
Packaged in an 8 oz (Full Size) or 4 oz (Half Size) reusable glass jar.
Slippery when wet.
This product contains herbs. Consult a physician before use if you are pregnant, breastfeeding, or suffering from a health condition.
Ingredients: Organic Sucrose (Sugar), Vitis Vinifera (Grapeseed) Oil, Hylocereus Undatus (Dragon Fruit) Powder, Fragrance, Phenoxyethanol (and) Caprylyl Glycol (and) Sorbic Acid