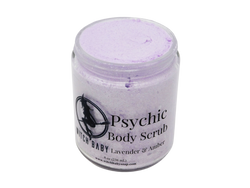 Witch Baby Soap
Psychic Ultra Rich Shimmer Scrub
Connect with your inner mystic with this enchanting blend of amber, Egyptian musk, and lavender. This deeply empathetic and moisturizing body scrub is packed full of soft metallic shimmer.
Packaged in an 8 oz (Full Size) or 4 oz (Half Size) reusable glass jar.
Melt Warning - This product melts in hot environments. If your product melts in transit we are not responsible and will not issue a refund or store credit. Immediately put jar in refrigerator to solidify, texture may change slightly.
This product contains essential oil. Consult a physician before use if you are pregnant, breastfeeding, or suffering from a health condition.
Ingredients: Sea Salt (Sodium Chloride), Vitellaria Paradoxa (Shea) Butter, Organic Cocos Nucifera (Coconut) Oil, Vitis Vinifera (Grapeseed) Oil, Zea Mays (Corn) Starch, Fragrance (Phthalate Free), Kaolin Clay, Lavandula Angustifolia (Lavender) Essential Oil, Mica, Titanium Dioxide, Ultramarine Blue, Tin Dioxide, Calcium Sodium Borosilicate,Tin Oxide, Phenoxyethanol (and) Caprylyl Glycol (and) Sorbic Acid (and) Sorbic Acid