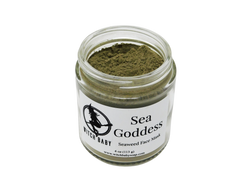 Witch Baby Soap
Sea Goddess Face Mask
*HAS A STRONG SEA WEED SMELL*
Sea Goddess is an oceanic skin treat made with detoxifying sea clays and nutrient rich seaweed. This mask is an ideal aquatic beauty ritual for any sea witch. 
To use this mask mix a spoon full with a liquid or puree of your choosing. This gives you a great opportunity to customize your mask the way you see fit.
Here are some recommendations:
Dry Skin: Milk (cow, goat, nut, coconut etc), Avocado, Aloe, Yogurt, Honey
Oily Skin: Apple Cider Vinegar, Strawberries, Banana, Green Tea, Lemon Juice, Pumpkin, Beer
Combination Skin: Milk, Honey, Aloe, Banana, Pumpkin
 To use:
Wash face thoroughly before application
Slowly add liquid or puree to one spoonful of Sea Goddess and mix until mud like texture is achieved
Apply to face and neck (not for use on eyes)
Rinse with warm water when dry
Moisturize
 Packaged in a 4 oz reusable glass jar.
*Keep contents of jar dry. If liquid gets inside the jar - discard.
Although it is all natural all skin reacts differently. If irritation occurs - discontinue use.
This item contains herbs and/or essential oils. If you are pregnant or breastfeeding please consult a physician before use.
Ingredients: Sea Clay (Sea Silt), Dead Sea Clay, Arthrospira Platensis (Spirulina) Powder, Ascophyllum Nodosum (Seaweed) Powder