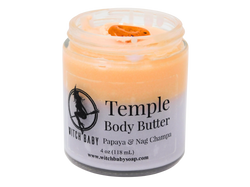 Witch Baby Soap
Temple Body Butter
Worship yourself with this full bodied blend of papaya and nag champa. This warm aroma transforms on your skin; mingling with your natural essence. It's juicy, sweet, and spiritual - just like you. The Carnelian embedded on top infuses this jar with vibrations of confidence, passion, and creativity. 
Packaged in 4 oz reusable glass jar
Melt Warning - This product melts in hot environments. If your product melts in transit we are not responsible and will not issue a refund or store credit. Immediately put jar in refrigerator to solidify, texture may change slightly.
Ingredients: Vitellaria Paradoxa (Shea) Butter, Organic Cocos Nucifera (Coconut) Oil, Helianthus Annuus (Sunflower) Seed Oil, Zea Mays (Corn) Starch, Fragrance (Phthalate Free), Cetearyl Olivate (and) Sorbitan Olivate, Mica, Titanium Dioxide, Tin Oxide, Ultramarine Blue, Iron Oxide