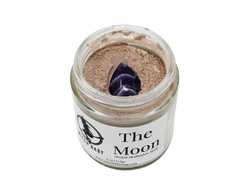 Witch Baby Soap
The Moon Herbal Meditation Mask
The Moon is an otherworldly face mask. It's hand blended with a variety of psychic herbs that contain a wide variety of vitamins, minerals, antioxidants, and nutrients. The Moon invites us to look within and trust our intuition. Cooling and calming lavender helps take us to a place of serenity while blue vervain, yarrow, myrrh, and angelica awaken our psychic abilities. Each jar of The Moon comes with a tear drop shaped piece of amethyst to assist in meditation. 
*Stone May Sink To Bottom Of Jar*
To use this mask mix a spoon full with a liquid or puree of your choosing. This gives you a great opportunity to customize your mask the way you see fit.
Here are some recommendations:
Dry Skin: Milk (cow, goat, nut, coconut etc), Avocado, Aloe, Yogurt, Honey
Oily Skin: Apple Cider Vinegar, Strawberries, Banana, Green Tea, Lemon Juice, Pumpkin, Beer
Combination Skin: Milk, Honey, Aloe, Banana, Pumpkin
 To use:
Wash face thoroughly before application
Slowly add liquid or puree to one spoonful of The Moon Mask and mix until mud like texture is achieved
Apply to face and neck (not for use on eyes)
Rinse with warm water when dry
Moisturize
Packaged in a 4 oz reusable glass jar.
*Keep contents of jar dry. If liquid gets inside the jar - discard.
Although it is all natural all skin reacts differently. If irritation occurs - discontinue use.
This item contains herbs and/or essential oils. If you are pregnant or breastfeeding please consult a physician before use.
Ingredients: Kaolin Clay, Ipomoea Batatas (Purple Sweet Potato) Powder, Avena Sativa (Oat) Kernel Flour, Lavandula Angustifolia (Lavender) Flower Powder, Achillea Millefolium (Yarrow) Powder, Archangelica (Angelica) Root Powder, Commiphora Myrrha (Myrrh) Powder, Verbena Hastata (Blue Vervain) Powder