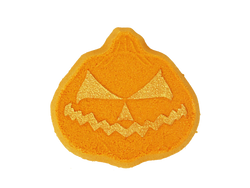 Witch Baby Soap
Hallowmas Bath Bomb
Hallowmas is a Halloween cult classic. This autumnal bath bomb is the embodiment of October. It has the intoxicating aroma of crushed caramelized jack-o-lantern guts drenched in bourbon vanilla with a dash of warm pumpkin spice. It has a beautiful luster and colors the water a beautiful shade of jack-o-lantern orange. We packed it full of pumpkin spice, real pumpkin, and pumpkin seed oil! 
Net Wt 6.5 oz
This product contains herbs. Consult a physician before use if you are pregnant, breastfeeding, or suffering from a health condition.
Due to the inclusion of spices in this blend it is not intended for sensitive skin. 
Ingredients: Sodium Bicarbonate, Citric Acid, Montmorillonite Clay, Cream of Tartar (Potassium Bitartrate), Sodium Lauryl Sulfoacetate, Water, Cucurbita Pepo (Pumpkin) Seed Oil, Fragrance (Phthalate Free), Glycerin, Red 40, Yellow 10, Pumpkin Spice (Cinnamomum Cassia (Cinnamon), Zingiber Officinale (Ginger), Syzygium Aromaticum (Clove), Myristica (Nutmeg), Halloween Sprinkle: (Sugar, rice flour, palm oil, glycerin, corn starch, tapioca starch, dried glucose syrup, gum arabic, xanthan gum, cellulose gum, artificial flavor, FD&C red #40, FD&C red #3, FD&C blue #1 and FD&C yellow #5.)