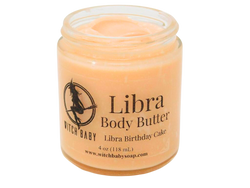 Witch Baby Soap
Libra Birthday Cake Body Butter
Blessed Solar return Libra baby! This Venusian space butter is a celebration of all things Libra. It smells like autumnal warm apple cider cake dusted with cinnamon sugar. This indulgent body butter is topped with clairvoyant clear quartz to promote clear decision making, cleansing, and psychic ability. Get naked and party like a Libra.
Packaged in 4 oz reusable glass jar.
Melt Warning - This product melts in hot environments. If your product melts in transit we are not responsible and will not issue a refund or store credit. Immediately put jar in refrigerator to solidify, texture may change slightly.
Ingredients: Vitellaria Paradoxa (Shea) Butter, Organic Cocos Nucifera (Coconut) Oil, Helianthus Annuus (Sunflower) Seed Oil, Zea Mays (Corn) Starch, Fragrance (Phthalate Free), Cetearyl Olivate (and) Sorbitan Olivate, Mica, Titanium Dioxide, Iron Oxide